Our Mission
To provide help, hope, and lasting recovery to children, youth, adults, and families.
Rosecrance Jackson's History
Dr. William "Bill" Jackson and his wife Marienne founded Jackson Recovery Centers, Inc. in 1976.  At the time, the Siouxland region had a full continuum of addiction treatment options for adults, but lacked specific addiction services for adolescents. Marienne and Bill's love of children and their commitment to Siouxland demanded that the lack of adolescent addiction services be addressed.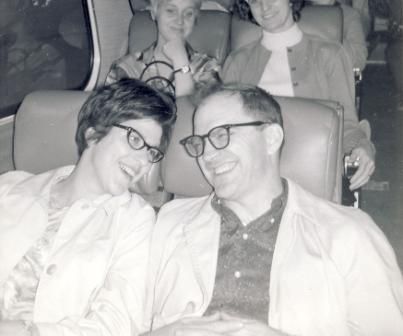 With the help of many dedicated and influential members of the community, their dedication, commitment, and hard work created the first program in Iowa to provide residential treatment for chemically dependent adolescents and their families.  The corporation was called Gordon Chemical Dependency Center in honor of the Gordon Memorial Hospital, from which they leased their facility for $1.00 per year.
 
The field of addiction treatment went through many changes in the late 70's and 80's that transformed the organization. 
 
Siouxland Council on Alcoholism and Drug Abuse (SCADA) was created in 1966 and provided substance abuse prevention and treatment services to the residents of Woodbury, Plymouth, Cherokee, and Ida Counties continuously. In 1986, SCADA merged with St. Luke's Regional Medical Center, became the "Addiction Center," and combined outpatient and half-way houses with the detoxification and inpatient services.  
 
In 1989, Gordon Chemical Dependency Center also became affiliated with St. Luke's.  Through this affiliation, a comprehensive continuum of addiction-related services was assembled within a single corporate entity of St. Luke's Gordon Recovery Centers, a subsidiary corporation of St. Luke's Health System.
 
In February of 1995, the assets of the Midwest Iowa Alcohol and Drug Addiction Center (MIADAC) were acquired by St. Luke's Gordon Recovery Centers. This brought services in Shelby, Crawford, and Monona Counties together under one catchment area.
 
In 1998, Gordon Recovery Centers disaffiliated from St. Luke's and reestablished itself as an independent, free-standing not-for-profit addiction program. 
 
In April of 2002, Dr. Bill Jackson retired as medical director. In recognition of his and Marienne's courage and commitment to those who suffer from addiction, Gordon Recovery Centers was renamed Jackson Recovery Centers, Inc.
 
In 2019, Jackson Recovery Centers changed its name to Rosecrance Jackson Centers after affiliating with Rosecrance Health Network.