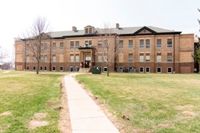 Synergy Center is Jackson Recovery Centers' inpatient treatment facility that specializes in drug and alcohol addiction treatment and co-occurring disorder treatment for adult men and women. It's located in Cherokee, Iowa.
Since January 1, 2015 more than 200 patients have come through the doors and more than 80 percent of those patients have successfully completed treatment at Synergy.
Patients in Synergy's program receive on site medical and psychiatric care including an initial history and physical, ongoing weekly medical treatment for acute and chronic illnesses, full psychiatric evaluation and medication management throughout their treatment. Jackson is deeply rooted in the 12 Steps of Alcoholics Anonymous. So, our treatment team has been focusing on assisting more patients in completing work on their 4th steps and experiencing a 5th step prior to leaving the program. Staff members at Synergy have also been engaged in an ongoing process improvement project regarding our admission and discharge procedures. The goal of these process improvement projects include, welcoming and engaging patients and their families into treatment in ways that make the difficult transition to inpatient treatment more comfortable and to provide structure and planning to the transition from inpatient to outpatient treatment which is often a risky time for those newly in recovery from addictions. These efforts are important to the potential success of our patients in treatment and recovery.
If you'd like to learn more about Synergy Center you can call 712-225-2441 or visit Synergy's website at www.jacksonrecovery.com/SynergyCenter.