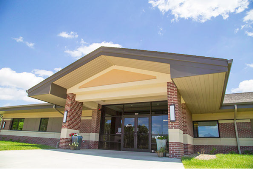 What a difference a year makes. On April 28, 2015 Jackson Recovery Centers opened the doors to the new Child and Adolescent Recovery Hospital. This special place was a dream of our founders, Dr. Bill and Marienne Jackson for nearly four decades.
This facility is designed specifically for those ages 12-18 who are in the process of finding a lifetime of recovery from substance use and/or mental health disorders. Since the doors opened, more than 150 children and adolescents have been admitted into the recovery hospital.
The recovery hospital became the new home for the adolescent inpatient program, and it also increased capasity from 50 beds to 72. Inside the new 55,000 square feet facility is also our adolescent outpatient program. In July, Jackson will also celebrate the one year anniversary of the opening of a 12 bed adolescent sub-acute inpatient psychiatric unit. This sub-acute program is a short term (3-7 day) psychiatric medical service designed to stabilize a patient's psychiatric conditions related to being psychotic, suicidal, harm to self and/or others, and/or unable to care for self-due to the psychiatric condition related to mental health psychiatric emergency, substance use, and/or co-occurring sub-acute medical conditions.
"Opening the doors to our new Child and Adolescent Recovery Hospital completes the final pieces of the puzzle, said Kermit Dahlen, Jackson's President and CEO on the day of the hospital's opening. "It has special people, special programs, with special kids in a special place."
Since 1976, Jackson has been serving the adolescents in Siouxland, thanks to Dr. Bill and Marienne Jackson who answered their community's call for service.
It's never too late to get your child or loved one the help they need. For more information about the Child and Adolescent Recovery Hospital, call us at 712-234-2300.