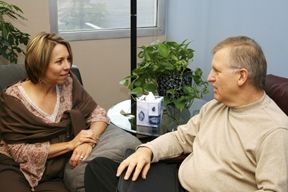 A recent survey from the Substance Abuse and Mental Health Services Administration (SAMHSA) shows more than 43 million Americans have a mental health disorder. That's why May is has been designated as Mental Health Month. Knowing healthy coping strategies and options for assistance is key to helping people deal with mental health disorders.
The Anxiety and Depression Association of America reported the most common mental illness in the US is anxiety disorders, making up 18% of the population (40 million). Individuals dealing with these disorders are also more likely to lead to more severe issues, are more likely to be hospitalized for psychiatric services, but only a third of those dealing with this issue receive treatment for their disorder.
It is important to know that people are dealing with mental health issues, but it is just as important to have steps to deal with these issues in a healthy manner. Some possible strategies for healthy coping with mental health disorders could be meditation, physical activity (walking, yoga, weight lifting, etc), reading, or humor. Taking advantage of activities that often bring enjoyment can be helpful. It can also be helpful to reach out to resources that may be available such as being a part of a spiritual community, meeting up with friends, or spending time with a pet. Finally, many employers offer resources that can provide counseling sessions with no additional cost to the individual receiving them. These employee assistance programs (EAP) can be very useful, but often under-utilized. Making sure that not only those we work with are taken care of, but practicing proper self care will make sure that we are offering the best care possible to those we interact with on a daily basis.
In a similar survey done by the US Department of Health and Human Services, one in four Americans who have a serious mental health disorder, also have a substance use disorder. It's also known has a co-occurring disorder. At Jackson Recovery Centers we work with patients at all of our programs to address both their mental health and substance use disorders. Jackson has an experienced medical provider team, including two medical directors, 3 psychiatric Advance Registered Nurse Practitioners (ARNPs) and 2 medical ARNPs, along with highly-trained therapists to provide a full continuum of care to our patients. For more information about our mental health, substance use and co-occurring use disorders, visit our website at www.jacksonrecovery.com or give us a call at 712-234-2300.